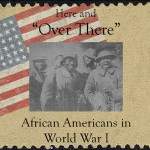 One of the least researched and publicly presented subjects in the history of WWI has been the contributions of African American women both home and abroad. Throughout the war years, women of color contributed to the war effort in important ways individually and through services organizations including the YWCA and American Red Cross. One extraordinary contribution by an African American woman buried within the pages of WWI and American history, is the story of Dr. Harriet Alleyne Rice.
In July 1919, the French Embassy in Washington, DC presented Dr. Harriet Alleyne Rice of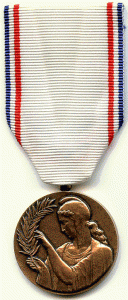 Newport, Rhode Island the "Medaille de Reconnaissance de la Francaise" or Medal of French Gratitude, for her outstanding services in French military hospitals treating wounded French soldiers during the war. The medal was created to express gratitude by the French government to those non-military participants that had come to the aid of the injured, disabled, refugees, or who had performed an act of exceptional dedication in the presence of the enemy during the war.
Dr. Rice was born to George and Lucinda Rice in 1866 in Newport, Rhode Island and lived a considerable amount of her life in the family home at 75 Spring Street. She graduated as a top student at Newport's Rogers High School and in 1882, she went on to become the first African American student to graduate from Wellesley College. Soon after she would earn a medical degree at the University of Michigan Medical School and further training from the Women's Medical College of the New York Infirmary for Women and Children. Bigotry during the ironically named "Progressive Era" of the late 19th century would prevent well qualified African Americans from pursuing careers in medicine, particularly women. As an African American woman and licensed physician, it was nearly impossible for Dr. Rice to practice medicine at any American hospital. She soon joined the famous social worker and women's suffrage leader, Jane Adams at the celebrated Hull House in Chicago to provide medical treatment to poor families.
At the outbreak of World War I, Dr. Rice attempted to join the American Red Cross to take part in providing medical services for American troops, but was denied because of her race. Undaunted, she contacted the French government who were more than willing to have an experienced doctor available to treat wounded French troops. She served in hospital duty in France from January 1915 until a few days after the Armistice in 1918, longer than most American troops. Ironically, because of American racism and like her African American soldier counterparts who would serve under French command in combat, Dr. Rice would make an important contribution towards the Allied war effort, not under an American flag, but French. After the war, Dr. Rice returned to America to continue her medical practice for another 40 years. She died peacefully in 1958 at the age of 92 and was buried in Newport alongside her parents in the God's Little Ace section of the Common Burying Ground.
Dr. Rice's extraordinary, but continuously frustrating life as a talented woman of color during a time of great challenges for all African Americans is best summed up with her response to a 1937 alumni questionnaire from Wellesley College that asked, "have you any handicap, physical or other which has been a determining factor in your professional activity?" Her reply was direct and representative of all persons of color who dared to achieve and succeed during turn of the 20th century America stating, "Yes! I am colored which is worse than any crime in this God blessed Christian country. My country tis of thee."
Latest posts by Keith Stokes
(see all)